Our Services
Serving Norfolk City County
Nails Spa is an upscale nail salon in Norfolk, VA. We offer top quality services, at very reasonable prices. You will love our relaxing atmosphere and friendly technicians, who enjoy helping you feel and look beautiful! Call us today at 757-995-2665 to schedule your personalized appointment for any of the following services:

* Nail Care
* Manicures
* Pedicures
* Eyelash Extensions

About Us
Nail Salon Norfolk VA
For the ultimate relaxation experience, we invite you to spend an hour or two at Nails Spa, your local nail salon, where pampering you is our pleasure! We provide head to toe beauty services to ensure you feel and look beautiful!

Our full service nail salon offers an array of beauty treatments. We offer a variety of nail spa services from spa-style manicures to pedicures. We also apply stunning, natural-looking eyelash extensions. Our technicians take pride in providing top quality services at affordable prices. You will love our relaxing atmosphere, professional customer service, and the cleanliness of our brand-new nail salon!

To schedule your personalized beauty session, call Nails Spa in Norfolk, VA at 757-995-2665. Our nail salon also welcomes walk-ins, when you feel like a spur-of-the-moment getaway!

Products
* Nail spa
* Nail salon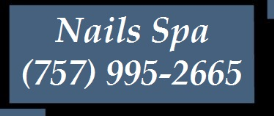 Nail Salon Norfolk VA
---
https://nailsalonnorfolk.com
Payment Methods
Master Card, VISA, Discover, Check, Cash